Moderators: PEPCORE, SweetPeaPod, BreakforceOne, JohnMerrik
BANG FACE WEEKENDER CREW!
The Weekender returns to mark the epic milestone of 100 banging parties!
20-22 March @ Pontins Holiday Park Southport
* Line-up Hype > First Acts Announced *
Squarepusher
Roni Size feat. Youngman
David Rodigan
Utah Saints
The Advent
Ed Rush
Congo Natty: Rebel MC, Tenor Fly, Congo Dubs
Alec Empire
Scratch Perverts
N-Joi
Altern-8 - First new tracks since '93 from Mark Archer!
Luke Vibert
Neil Landstrumm
DJ Pierre
Phuture
Hellfish
The DJ Prodcuer
Doc Scott
Kenny Ken
Broken Note
High Rankin
Pet Duo
Igneon System
Ceephax Acid Crew
Boxcutter
Gancher & Ruin
Counterstrike
Igorrr
Satan
Flava D
Bass Clef
Kanji Kinetic & Thorpey
Anklepants
Squire of Gothos, Phatworld & Spongebob Squarewave
Lenkemz
Dave Skywalker
Saint Acid & The Bang Face Hard Crew
info & tickets >
http://www.bangface.com/events/bangface100
spread the word >
https://www.facebook.com/events/1465949527006632
---
What a line up!!!
---
what a great lineup... sucks living so far away
---
BANGFACE WEEKENDER CREW!
Line-up catch up - over 70 acts announced
Recent additions…
Venetian Snares, Zinc, µ-Ziq, Reeps One, Outlander, T-99, Limewax
Remarc, Distance, The Hardway, Luna-C, Ital Tek, Mr. Gasmask,
The Teknoist, Kid Lib, Dub Liner, 030303, Audiotist, 030303 + loads more!
http://www.bangface.com/events/bangface100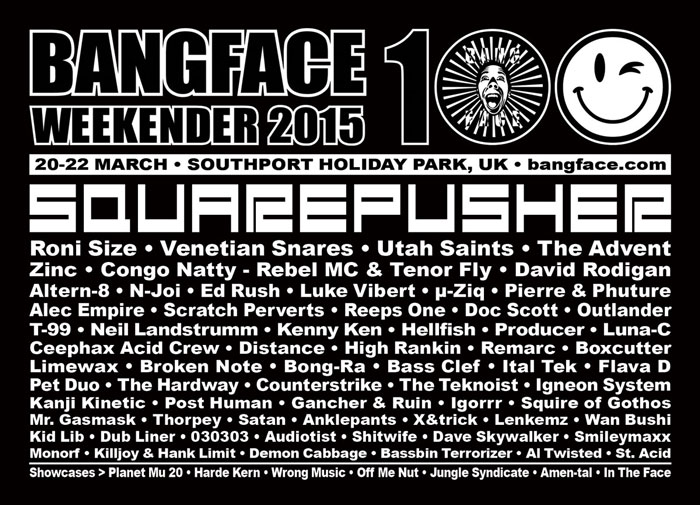 > Plus this year's theme is Computer Games! <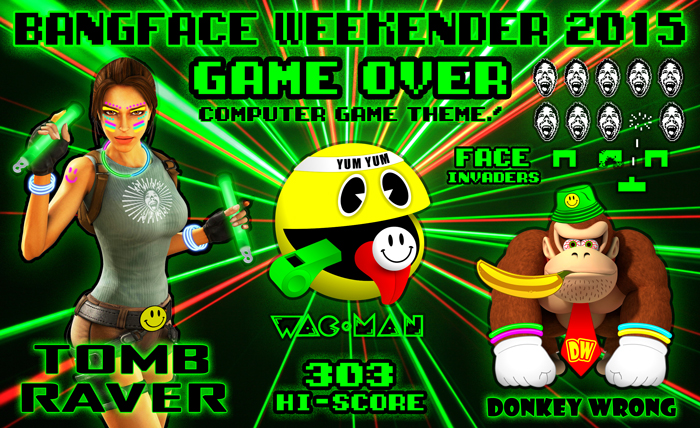 ---
I could sell my mother for this....
---
Who is online
Users browsing this forum: No registered users and 19 guests